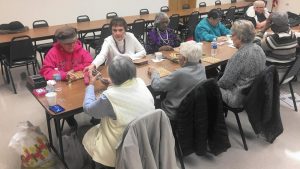 Voters in Elgin Township this spring will be asked to decide a referendum question that would slightly increase their property taxes in order to assist senior residents.
According to the referendum document, the measure would place an additional 0.025 percent tax on properties. It would add about $8.33 in property tax per $100,000 of the market value of a home and would bring in about $420,000, according to the document.
The Township Board approved putting the referendum on the ballot at its January meeting by a 5-1 vote, Township Supervisor Annette Miller said, with the paperwork filed with Kane County Jan. 13.
"This is just the vehicle to put the referendum on the ballot," Miller said. "We can't officially take a stand. We felt residents needed to make a decision to pay the new tax or not."
Board member Vicki Pelock cast the lone no vote. Pelock said she has nothing against the referendum but had questions about the amount and wanted more specifics about what the money would fund.
Board member Jon Patrick "Pat" Hudgens said, "This ought to be voted on by the residents. I know the need of many seniors in our community. With what's been going on with the state, we've been doing what we can to help, but there's not enough money to go around."
Advocating for the referendum was Senior Services Associates Executive Director Bette Schoenholtz, who gave a presentation to the Board in December.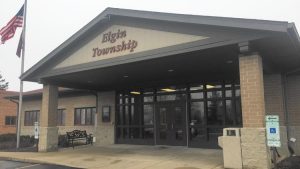 Senior Services Associates has locations in Aurora, Crystal Lake, McHenry and Yorkville. In Elgin, its main office is downtown, with some programming run out of the Elgin Township office along South McLean Boulevard. The Township and Senior Services, along with local law enforcement and support services, also offer TRIAD, a program addressing crime and the elderly.
In her presentation, Schoenholtz noted the significant growth in the elderly population in Elgin Township since 2010. She also cited a study which claimed funding case management to help the frail elderly remain living independently has not increased since 2000.
Schoenholtz told the Board that Senior Services has left vacant four positions, including a care coordinator and abuse case investigator.
Schoenholtz also noted the state reducing by 50 percent money used to keep seniors not on Medicaid living at home, which can add to having more emergency cases. In the state's 2016 fiscal year, Senior Services dealt with the state being late on payments owed on contracted services, and the state also eliminated funding for self-neglect cases.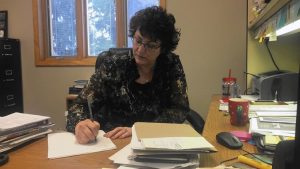 In recent years, the city of Elgin revamped what it does to assist local nonprofits. It did away with offering grants from Elgin's share of Grand Victoria Casino tax money and redirected federal block grant money to parks projects while setting aside general fund money for bridge loans to social services left hurting by the state's delinquent payment on contracts.
Senior Services had been getting help paying rent for additional space for activities and programs through the city and Elgin Township. Last year, a one-time donation covered the loss of city funding, she said.
Schoenholtz said that Aurora Township will have a referendum similar to the Elgin Township one in spring, too. She noted that McHenry and Kendall County referendums early last decade provided money to efforts assisting seniors, including those overseen by Senior Services.
"The Aurora Township resolution is looking at an increase of approximately $450,000 to provide services for seniors," Schoenholtz said.
According to Schoenholtz, Senior Services Associates served 4,248 seniors in Aurora Township in fiscal year 2016 and 3,691 seniors in Elgin Township during the same time. Those numbers do not include the number of seniors Senior Services Associates works with in licensed care facilities.
"We are the nursing home ombudsman in those facilities," Schoenholtz said.
"The dollars that we have been getting in (from the state) have been very flat," Schoenholtz said. "Basically, we need more money. We've cut staff that was serving in significant roles, so sometimes cases are being addressed by triage. And even it the referendums pass, it will be a year before we see any money from that."
Schoenholtz said the situation now means that there is a long waiting list for the variety of services that Senior Services provide to the elderly who find themselves in an array of crisis situations — from trying to find a nursing home, to getting financial coaching, to finding assistance with a loved one battling cancer.
Miller said this was the first time in the 30 years during which she has served in various roles with the Township that the Township has put a referendum on the ballot. She said the senior-related referendum question passing will be a challenge given the economic climate and asking people to pay more taxes.
"But right now, how things are in Illinois has left many social services really hurting," Miller said.
"We can't rely on the state anymore," Niecy Besler of Elgin said.
Besler was among a group of women playing bingo in the Elgin Township basement late Thursday morning and sitting next to Carmen Diaz of South Elgin. Diaz noted she's on a fixed income and concerned about cuts in services.
"A lot of us are stretching our money too thin," Diaz said.