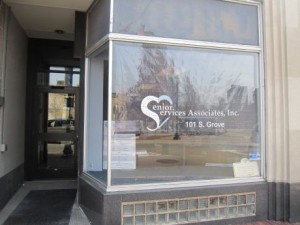 Elgin is on its way to providing more space for events geared toward senior citizens.
The city council last week approved a deal to help Senior Services Associates rent space downtown adjacent to its existing location.
"They have severe limitations in the building they're in now and they have to turn away people and put them on waiting lists," Councilman John Steffen said. "This will help with addressing a critical need in the city."
The non-profit group already uses units at 101 and 105 S. Grove Ave. and now will rent nearby units that recently became available at 107 S. Grove and 205 Fulton.
Under the deal, Senior Services Associates will continue to pay $800 a month while Elgin Township chips in $833 a month and the city pays the remaining $1,967 monthly. The organization provides legal, housing and other assistance to the elderly under a contract with the city.
Discussion of the deal sparked heated debate last month as councilmen argued over the timing of the initial vote, which came two weeks before the April 5 election, as well as the way it was brokered.
Councilman Dave Kaptain, who will be sworn in as mayor later this month, was among the three originally opposed because he said several members of the council had negotiated the deal on their own. But on Wednesday, he gave his approval and said his financial questions had been answered. He also likes that while the city has indicated it would like to help with rent for three years, it only is committed to one for now.
Councilman Richard Dunne also changed his mind, saying his concerns about code enforcement issues had been answered.
The council approved the deal on a 6-1 vote. John Prigge was the lone "no" vote, saying other organizations had more urgent needs — like keeping the lights on.
"In these times I really believe taxpayers want us to address needs instead of wants and I think in the future, once we get into the budget for next year, I'd be more than willing to look at other ideas and programs where the senior citizens and city can become partners," he said.
Outgoing Councilman Mike Warren, who initially brought the idea to the council, said there is a need for the space and he supports the deal wholeheartedly.
"I think we've been putting the seniors off far too long," he said. "I think their need is just as great if not greater than many of the organizations that we fund."
Source: triblocal.com