The Operation R&R effort of volunteers from RSVP and local American Legion and VFW chapters completed its second annual donation drive to bolster the spirits of military personnel serving overseas.
Beginning on September 11, 2016, volunteers throughout Kane, Kendall and McHenry Counties collected sports equipment, non-perishable snack items, toiletries, books and magazines, and cash donations to send to the USO for shipment overseas to military bases.
The Operation R&R initiative started in September 2015 and is jointly sponsored by Senior Services/Retired & Senior Volunteer Program (RSVP) and Plano American Legion Leon Burson Post #395. These two groups worked together to not only commemorate September 11th, Patriot's Day and a National Day of Service and Remembrance, but also to keep a lasting vigil through the fall until November 11th, Veterans Day. Collection boxes were filled at several locations in northern Illinois. Senior Services Associates senior centers in Yorkville, Aurora, Elgin, Crystal Lake and McHenry all received donations, as did American Legion Posts in Plano, Yorkville, Oswego and Elgin.
"Enthusiasm continues to grow for this campaign," said Jim Hill Commander of Plano American Legion Post #395. "We now have school children participating, as well as scouting organizations, and veteran auxiliary groups participating too."
More than 50 boxes of donated items were shipped to the USO office at the Rock Island Arsenal. These items included sports equipment (balls, bats, clubs, Frisbees etc.), playing cards (more than 2600 decks), magazines, puzzle books, adult coloring books, magazines, music CD's Movie DVDS's, and novels. In addition, more than $300 was donated to help with shipping costs. Sandwich VFW was one of the donors with $100 given from the Sandwich VFW Ladies Auxiliary. Donations were accepted throughout the campaign at Senior Services and the Plano American Legion.
The donated items were delivered to the USO office at the Rock Island Arsenal to be repackaged along with other supplies and shipped to military bases overseas.
Among the several seniors who helped inventory and pack the sports equipment were USMC L/LCpl James Hill of Plano Illinois who also served our country as a USAR MSgt; USAF A1C Edward Nestor of Yorkville Illinois; Gerri Salemi, widow of US Army Cpl Andrew Salemi of Plano Illinois; Laverne Hill, Rita Murphy, Marge Briggs; Penelope Van Cleve; Richard Van Cleve, and Pam Schroeder. These volunteers help regularly with activities at Senior Services Centers through the RSVP program.
"We are so thankful for everyone's participation and support of this collection campaign," said Barb Nadeau, RSVP Coordinator at Senior Services. "In our first year, we collected primarily sports equipment. This year we chose to include items from the USO's Care Package information sheet. We hope to continue this project every year to support our troops because this project is near and dear to the hearts of our senior clients. It means a lot to all of us to be able to help out the military personnel protecting our freedoms every day."
For more information on this collection campaign, contact RSVP representatives Barb Nadeau (Kendall County) 630-553-5777, Debbie Danitz (McHenry County) 815/344-3555 or Jim Hill, Commander of Plano American Legion Post #395 at 630-552-8313.
Operation R&R is a special program of the Retired & Senior Volunteer Program of Kane, Kendall & McHenry Counties of Illinois.
***
Photos & Captions: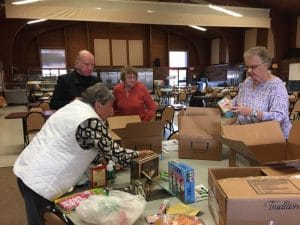 Kendall Co RSVP Volunteers Gerri Salemi, Ed Nestor, Marge Briggs, and Laverne Hill pack boxes for shipment.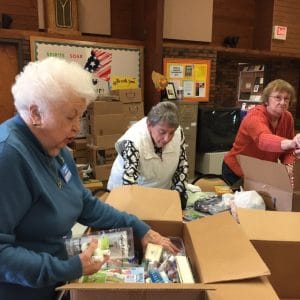 Kendall Co RSVP Volunteers Rita Murphy, Gerri Salemi and Marge Briggs packing supplies.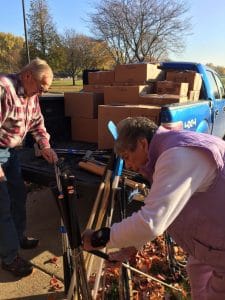 Plano American Legion Commander James Hill and RSVP Volunteer Gerri Salemi packing Sports equipment for shipment to the USO.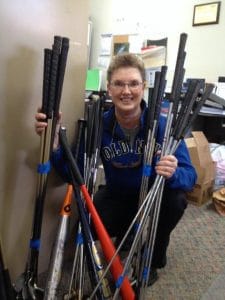 McHenry Co RSVP member Pam Schroeder donates golf clubs, baseball bats and other sports gear for the three-county Operation R&R donation drive.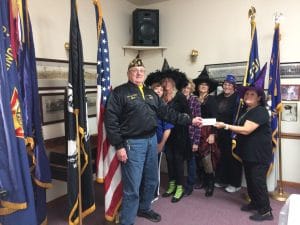 James Hill, Commander of Plano American Legion receives donation to Operation R&R from members of the Sandwich VFW Auxiliary. Pictured left to right are James Hill, Commander Plano American Legion Post #395; Brenda Pearson, Chaplain; Catherine Goodwin, Jr. Vice President; Ginger Dannewitz, Senior Vice President; Mary Murphy, Secretary; Sally Kolb,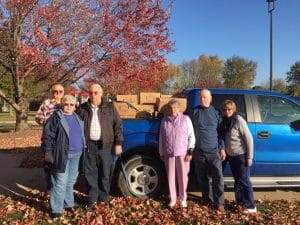 Kendall County RSVP Volunteers completed packing of Operation R&R donations for shipment to Rock Island Arsenal USO office. Pictured from left to right are James Hill, Commander of Plano American Legion Post #395, RSVP Volunteers Penelope Van Cleve, Richard Van Cleve, Gerri Salemi, Ed Nestor and Marge Briggs.