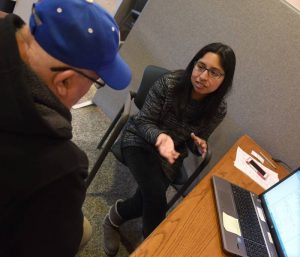 Voters in Elgin Township will be asked in a referendum question Tuesday to approve a new property tax to fund social services for seniors.
The tax increase would yield about $420,000 yearly for adult day care, caregiver services, home-delivered meals, transportation, elder abuse services, caregiver respite and other services for township residents 60 and older.
The initiative was spearheaded by Senior Services Associates, which asked the township board to place the referendum question on the ballot, but proceeds from the new tax would be available to all nonprofit agencies that serve seniors in Elgin Township, township supervisor Annette Miller said.
The Salvation Army, Ecker Center for Mental Health and the Association for Individual Development, for example, also would be eligible to get the money.
The new property tax would amount to $16.67 per year for a taxpayer with a home market value of $200,000.
"It's a small amount of money that is being asked for, and has a major impact," said Bette Schoenholtz, executive director of Senior Services Associates.
The township board would decide how to disburse the money based on applications, Miller said. The board might form a committee — possibly made up of trustees, seniors and nonprofit representatives — to evaluate the applications, she added.
Elgin Township funds some services for seniors, including via a $21,000 yearly contract with Senior Services Associates and $6,000 for the TRIAD senior safety initiative, Miller said. Last year's $1.4 million general fund expenses included $392,000 in grants to service agencies, documents show.
The township's senior population grew by 83 percent, or seven times faster than the regular population, from 2005 to 2015, when it had nearly 18,000 seniors, according to data from Senior Services.
Meanwhile, nonprofits had to contend with funding cuts, and now with the looming prospect of more cuts at the state and federal levels, Schoenholtz said. Senior Services, which has a budget of about $1 million for clients in Elgin Township, cut three staff positions in the Elgin office, she said.
The new tax would fund services for all seniors, regardless of income, she added.
"Whether you're rich or poor, you have the issue of aging and frailty," she said. "Most families now have two people working, so who is going to take care of the loved one when they are gone?"
The Elgin Township referendum question states the new tax money could be used for construction, but that's not the plan, Miller and Schoenholtz said.
Senior Services had been planning to ask for a new tax for a few years after failing to persuade the Kane County Board to place a referendum question on the ballot about a decade ago, Schoenholtz said.
"We always had to deal with, 'Is this a good time?' 'Is this the right election?' " she said. "We really are up against the wall."
The new tax would show up on property tax bills in 2018.