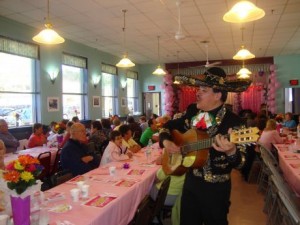 Senior citizens in Elgin may soon get more space for special events if city and township officials agree to provide financial help.
Councilman Mike Warren, who is running for re-election April 5, proposed the partnership after attending a prom put on by Senior Services Associates, Inc. where he said he saw space limitations firsthand.
Senior Services Associates, a non-profit that provides legal, housing and other assistance to the elderly under contract with the city,  is housed downtown at 101 S. Grove and also rents space in the adjacent 105 S. Grove. Warren hopes it also can add additional units at 107 S. Grove and 205 Fulton to that list.
Renting all those spaces would cost $3,600 a month including utilities, according to a memo prepared by William Cogley, corporation counsel for the city. Owners Elite Management says the rate is the lowest it could offer and would mean a loss of $5,390 a year.
Warren's proposal calls for Senior Services Associates to continue to pay $800 a month while Elgin Township chips in $833 a month and the city pays the remaining $1,967 monthly through May 31, 2014.
"This seemed like a once-in-a-lifetime unique opportunity to double space for a low cost as a partnership," Warren said. "The city doesn't have a lot of money, but a fiscal policy of making the right decisions allows us to take advantage of unique opportunities."
Bette Schoenholtz, executive director of Senior Services, called the idea of extra space "exciting" and "much needed."
"We're just bursting at the seams in the space we're at right now," she said. "We have events, particularly holiday events, that have many more people that want to come than we can handle. This will give us an opportunity to grow significantly."
Adjacent space, she said, also would save on the need for additional staff and has the added benefit of being close to a parking garage. She expects only relatively minor renovations would be needed to improve access between the spaces.
Warren will bring the proposal to the city council this month.
Township officials will get a presentation on the partnership idea at their April 6 meeting. Township Supervisor Annette Miller said seniors already use some of its building space as a west side venue, but she agrees they need a bigger space for large events downtown.
"I've been down there for different functions and they're growing out of that," she said. "It would be a great partnership with the city and Senior Services."
Source: triblocal.com