Dementia Friendly Elgin Area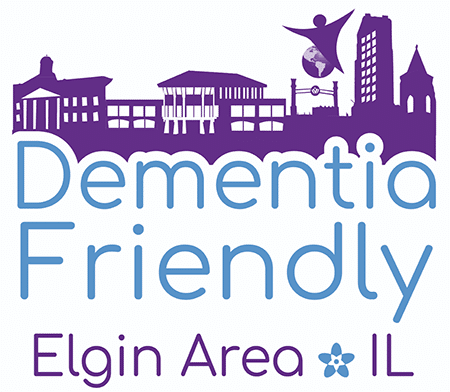 Don't know where to begin? Ask Dementia Friendly Elgin!
Our Mission
As a dementia friendly community, we are dedicated to strengthening and supporting those with cognitive changes and their care partners by raising awareness, reducing societal stigma, providing education, and communicating best practices.
Our Vision
We strive to improve the lives, welfare, and dignity for those with cognitive changes, while maintaining the greatest level of compassion, expertise, and integrity.
Dementia Friendly Elgin Friends
We formed this committee for YOU. We have provided resources for you and your family members, in our Resource Guide. We are not a medical association. We encourage you or your loved one to visit a medical professional, to obtain a thorough examination and diagnosis.
Downloads Dementia Friendly Elgin Resource Guide
This collection of resources serves as helping hands to those affected by Dementia.
In case of emergency dial 9-1-1
You will find vital contact information and details to help you or those with cognitive memory changes.
Please check back frequently. Additional resources, tools and contact information will be added to this site regularly.
Officers of the Dementia Friendly Elgin Board
President
Glenna Godinsky
Gail Borden Public Library
Treasurer
Angela Bouque
Gail Borden Public Library
Vice President
Cherie Aschenbrenner
City of Elgin
Secretary
Susan Wesner
Northwestern University
Board Members
James Risner
The Sheridan at Tyler Creek

Vicki Montgomery
Silverado St. Charles

Adele Larsen
Senior Services Associates