Transportation Services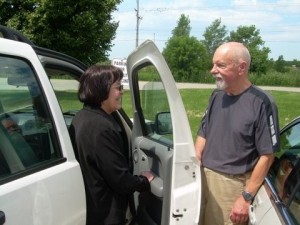 Many of our communities' older adults are unable to access transportation for several reasons. Some can no longer drive safely. Others can no longer afford to maintain a car and pay for insurance. Sometimes the person is temporarily unable to drive due to surgery or illness. Whatever the reason, losing the ability to drive becomes a barrier to receiving vital services such as going to doctors and shopping for medicines and food. Day to day activities normally managed on their own, like going to a doctor or grocery shopping all become impossible. This leads to isolation, depression and an overall decline in health and quality of life.
We are determined to eliminate the barriers that keep seniors and disabled people from accessing reliable, affordable transportation in order for them to receive crucial services and having some measure of independence and dignity.
Just click on any of the underlined transportation options listed below and the page will scroll down for more details. If you are in need of transportation or would like to volunteer to provide transportation, contact any of our offices, which you can find by clicking here.
---
Our Volunteer Transportation Program
There are senior citizens in your community who need your help! In order to help these folks maintain their independence and remain in their homes, Senior Services Associates provides a no-fee transportation program for people age 60 and older through the use of volunteer drivers. Our wonderful volunteers drive seniors who live in McHenry, Kane, and Kendall Counties to needs-based destinations such as doctor appointments, the bank, and the grocery store (when possible).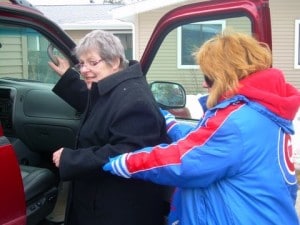 We could use your support as a volunteer driver! Benefits include: creating your own availability; getting reimbursed for your mileage; excess liability insurance. Most importantly – you will have the satisfaction of knowing you are making a positive and meaningful impact on each seniors well-being in your community!
Whether you are available a few times a month OR several days a week, we could use your help and generosity. Most rides are typically during the day, from 8 am to 5 pm, Monday through Friday. This is a perfect opportunity for retired or semi-retired people want to help while also staying active in the community.
Being a volunteer driver is a rewarding experience and has been a gateway to friendships among strangers. If you, or someone you know, would be interested in improving the quality of life for senior citizens, please contact the Transportation Coordinator for your area!
Ride in Kane is an affordable curb-to-curb transportation service that takes registered riders anywhere within a 10-mile radius in Kane County. Riders can make a reservation to get to doctor appointments, go grocery shopping, church, the movies or any other place they would like to go. Pace Bus, Kane County and various partnering municipalities such as cities, townships or villages sponsor this program.
Features of the Ride in Kane program include:

Transportation services are available by reservation, 24 hours a day, 7 days a week, 365 days a year – including weekends and holidays.
The cost is $5.00 each way ($1.50 for each mile over the 10-mile radius.)
One travel companion (i.e. spouse, family member, friend, etc.) may ride with a registered rider at NO additional charge.

To participate in the Ride in Kane program, you must:

Register for Transportation Service
In order to participate in the Ride in Kane transportation program, you must be a registered rider. To find out how to become a registered rider, contact the Ride in Kane information line at 888-480-8549. For Elgin Residents call 847-741-0404 to register.
To register, you must live in a sponsoring municipality and provide proof of your age or disability.

Communities participating in the Ride in Kane program include:

Elgin
Phone: (847) 741-0404 or email
Aurora
Phone: (630) 897-4035

Registration
Phone: (630)  892-1999
Schedule a pick up
Phone: (866) 727-6842
Seniors Discounted/Free – CTA/Metra/Pace
Metra and PACE. Riders 65 or older qualify for a discounted ride. To be eligible to ride for free or discounted, you must complete and qualify for the Benefit Access Program. Contact your local Senior Services office to apply and for information on the Benefit Access Program.
Seniors can register for their RTA Senior Ride Free Ventura Card or a Senior Reduced Fare Card on their 65th birthday. There are various registration sites in the region. To find a site near you, click here to download a list of sites or call (using any local area code) 836-7000 and give the operator your zip code to find the closest location.
Applicants must provide a government issued identification to verify their age as well as a photo (approximately passport size – 1 1/2″ square) can either be taken when registering or will need to be provided by the applicant. Applying for the Senior Ride Free Card Permit or Senior Reduced Fare Card can only be done in-person and will take 3-4 weeks to process.
This program is available as long as funding is available. To learn more about this transportation program visit the RTA Chicago website.
Kendall Area Transit
Kendall Area Transit offers dial- a-ride transportation Monday through Friday from 6:00am to 7:00pm. To become a scheduled rider, call 1-877-446-4828. Fares are $3.00 curb to curb or $5.00 door to door with additional fees of $2.00 for out of county destinations. Seniors receive a $1.00 discount on rides and children under 7 ride free with a paying adult. Kendall Area Transit also offers Medivan services to Edwards Hospital in Naperville, St. Joseph Hospital in Joliet and Morris Hospital in Morris at $6.00 one way for seniors. For more information call 1-877-446-4528.