Information & Assistance
Para traducir la información de la página al español, cambiar el idioma en la parte superior del sitio web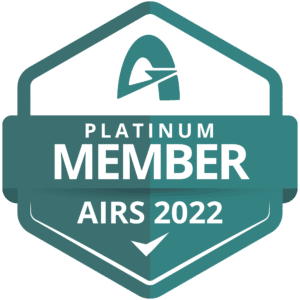 Professionally trained and caring Information and Assistance (I & A) Specialists are available at each of our offices to confidentially answer questions and provide information, assistance or referral to local, state and federal services and benefits available to older adults aged 60+, individuals with disabilities, and caregivers. Our goal is to help seniors live in their home with dignity, as long as safely manageable, and to enjoy the best quality of life possible.
We can assist in completing applications for benefits and find solutions for many complex issues including those listed below. Some programs are only available to those meeting certain income and/or asset limitations. Be assured, when completing applications, protecting your personal information is of the utmost importance.
Click on any of the topics listed below, and the page will scroll down for details. For more specific information on these or any other aging related issue, click here to find an office nearest you.
Affordable & Senior Housing
Many communities in Kane, Kendall and McHenry Counties offer housing specifically for seniors or disabled individuals. Some also offer rent adjustments based on income. We can provide lists of these housing options when you contact one of our offices, which you can find by clicking here. The following two websites offer searchable databases for housing and other aging issues information: www.ILHousingSearch.org and www.illinoisagingservices.org
Assisted & Supportive Living Facilities
An aging population is spurring an increased demand for and development of Assisted and Supportive Living Facilities. By providing a variety of supportive services, these housing options offer an independent lifestyle that is safer and more manageable for the senior than living alone in their own home.
The amenities and services vary, but can include private or shared apartments, housekeeping services, medication management, personal care assistance (e.g., bathing, dressing), social activities, transportation and more. Some facilities provide a more secure environment and services specifically for clients coping with dementia and Alzheimer's.
The terms Assisted Living Facility (ALF) and Supportive Living Facility (SLF) are often confusing for people facing these decisions for the first time. Generally, the senior and/or their family pay for the cost of living in an ALF, while SLFs are state-funded thru Medicaid. Staff at the facility will often help with the Medicaid application, or one of our trained I & A staff can assist you. To receive a list of ALFs and SLFs in your area, contact one of our offices near you, which you can find by clicking here.
Caregiver Issues
Caregivers not only spend a great deal of time caring for an elderly loved one, they also must find time and energy to care for their own families and themselves. Stress often becomes unbearable and can actually cause the caregiver to become ill and unable to continue their caregiver roles, or the stress can lead to elder abuse.
We are here to help caregivers avoid that situation with helpful advice; and when funds are available and the senior meets certain qualifications, we can assist with some of the costs associated with providing respite for the caregiver.
Visit our Caregivers Assistance page for information including: Caregiver Respite, Grandparents Raising Grandchildren and Adult Day Services. Click here to locate an office near you to speak to an I & A specialist about services in your area.
Help in the Home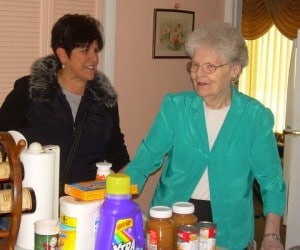 As seniors age, it's not unusual for some to need help with housekeeping activities (e.g., laundry, vacuuming, grocery shopping, meal preparation.) The Community Care Program (CCP) can provide help with household chores, if found eligible by the comprehensive assessment, which could enable a senior to remain living independently in their home or apartment. There is no cost to be assessed and eligibility  for CCD Programs varies from client to client.
To initiate CCP services, one of our certified Care Coordinators must assess the senior in their home. The program does not include medical or personal care services such as bathing. We can provide lists of certified home health care agencies that provide those services for a fee. To request an assessment, click here to locate an office near you.
Visit our Assessment & Care Coordination page to learn about additional options to help seniors remain living safely in their home including: Adult Day Services, Personal Emergency Home Response System, In-Home Homemaker services, Home Delivered Meals and more.
Legal Issues
Although our staff cannot provide legal advice or services, they are trained to recognize when a senior may need to seek professional legal services. Staff can provide referrals for trusted legal resources within your community who can assist with senior issues including wills, quit-claim deeds, protective trusts, etc. Our trained staff can provide assistance in completing, witnessing and notarizing various documents such as Senior Tax Assessment Freeze applications and Health and/or Financial Power of Attorney (POA).
Healthcare POA designates someone trusted to speak on your behalf, when you're unable to speak. This is different from a Will, which is a document used to distribute assets or settle an estate after a person dies.
Financial or Property POA allows a designated person to manage and distribute assets. This POA becomes effective immediately after it is signed. Selecting this designee should be done with great caution.
Long Term Care Facilities
Placing a loved one in a Long-Term Care Facility is usually a difficult, emotion packed decision. Our trained staff can help you navigate the complexities of selecting and paying for an acceptable and appropriate facility.
When one spouse must be moved to a nursing home while the healthier spouse remains in their home, our staff can explain a family's rights to legally protect some of their financial resources. The first step is to call an office near you, which you can find by clicking here.
Health Care Coverage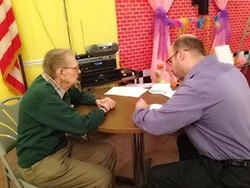 Medicare is a national, government run healthcare insurance program for seniors aged 65 and older, individuals who are under 65 with various disabilities, and for people of any age who have End-Stage Renal Disease (ESRD), or ALS (also called Lou Gehrig's disease). Our Medicare trained Information and Assistance Specialists can answer your questions or assist you in applying for, or enrolling in Medicare or Medicaid options including:
Medicare Part A:

Hospital insurance – requires deductibles and copays.

Medicare Part B:

Medical insurance for doctors, outpatient care, and some preventative services – Requires deductibles, copays and a monthly premium, which is often automatically deducted from the senior's Social Security benefits. There is a penalty for failure to enroll when eligible.

Medicare Part C:

Medicare Advantage Plans – HMO type insurance. Depending on insurance provider, benefits vary and may include some coverage for hospital, medical, dental, vision or drugs. Plans often require monthly premium, copays and deductibles. Choices for service providers are restricted to those in plan's limited network and often require referrals for services.

Medicare Part D:

Prescription drug Insurance – Requires a monthly premium, co-pays, and some plans require a deductible, all of which can vary by company. Failure to enroll can trigger a 1% penalty per month from date of eligibility. Generally, once enrolled, participants can change plans only during the annual Open Enrollment Period: October 15 – December 7. Certain situations in life allow for a special enrollment period outside of general open enrollment. Call to see if you qualify! It is advisable to annually compare various plans' drug prices, premiums and deductibles, because a senior's prescription needs may have changed and the insurance company's costs and the drugs they cover may also have changed significantly. Call our office to make an appointment with one of our qualified SHIP counselors to compare plans based on your needs or go to: www.medicare.gov to compare your current plan's costs to other available plans.

Medicare Supplemental Insurance Plans:

Also known as Gap Coverage – Private coverage that fills in the coverage 'gaps' that Medicare A and B don't cover (e.g., deductibles and co-pays.) Click here to download a comparison guide provided by the Senior Health Insurance Program (SHIP) for McHenry and Kane counties and click here for Kendall county guide, a free statewide health insurance counseling service for Medicare beneficiaries and their caregivers, or visit SHIP's website at: www.insurance.illinois.gov/Ship

Medicaid:

State medical assistance to cover health care costs for low-income individuals with very limited assets.
The above descriptions are a synopsis of complex Medicare and Medicaid programs. To speak to one our Medicare trained I & A Specialists about these issues, click here to find an office near you. Helpful Medicare information is also available at www.medicare.gov, and at the Centers for Medicare & Medicaid Services' website: www.cms.hhs.gov
SENIOR HEALTH INSURANCE PROGRAM (SHIP COUNSELORS)
At Senior Services Associates we have Information & Assistance Specialist that are certified SHIP (Senior Health Insurance Program) counselors to speak with you and/or your loved ones about your health insurance needs.
To make an appointment, contact the Senior Services Associates office nearest you. Our dedicated staff will provide information and resources about applying for Medicare, sites which offer assistance when applying for Medicare and the tools for SHIP sites around the State to utilize in serving Medicare beneficiaries.
Aurora
So. Kane County
2111 Plum St.
630.897.4035
Crystal Lake
McHenry County
4704 Three Oaks Rd.
815.356.7457
Elgin
No. Kane County
101 S. Grove Ave.
847.741.0404
McHenry
McHenry County
3519 N. Richmond Rd.
815.344.3555
Yorkville
Kendall County
908 Game Farm Rd.
630.553.5777
To read more about this program, click here.
Prescription Assistance Programs
Rising healthcare costs often create barriers to good health for many seniors. There are several drug assistance programs to ease that burden. Some programs have income and/or asset limits.Get in contact with our extensively trained staff for information or assistance in applying for benefits, or referrals to resources to access benefits including the following:
Illinois Medicaid / AABD Medical

This government funded healthcare assistance program helps low-income seniors, disabled or blind individuals. Limited Income and asset guidelines must be met. Click here to locate one of our offices near you for more information or help in applying for benefits. Visit the Centers for Medicare and Medicaid Services for more info at: www.cms.hhs.gov/home/medicaid.asp and helpful Illinois Medicaid brochures can be found at: www.hfs.illinois.gov/medicalbrochures/

Illinois Rx Buying Club

This program features discounts on both generic and brand name prescription drugs with an average savings of 20%. Applicants must meet income guidelines. To apply, a senior or their representative must call: (866) 215-3462 or (866) 215-3479 (TTY) or an application can be downloaded at: www.illinoisrxbuyingclub.com/application.html

Rx Assist

This online resource features a comprehensive database of health assistance programs including those offered by various pharmaceutical companies: www.rxassist.org/patients/default.cfm

Social Security Extra Help

Medicare beneficiaries are eligible for the Extra Help program if they if they meet low-income and asset criteria. Benefits of this program include payment of Medicare prescription drug plan's monthly premium, annual deductibles and drug co-payments. Social Security estimates Extra Help saves an average participant several thousand dollars annually. Our trained I & A staff can answer your questions or help you apply. For more information or to apply online go to: www.socialsecurity.gov/prescriptionhelp/
Senior Property Tax Issues
Our trained I & A staff can answer questions about many property tax issues affecting seniors and can help complete the necessary paperwork to receive available benefits, or refer callers to trusted resources in the community.
Senior Homestead Tax Exemption

Seniors who are at least 65, or will be turning 65 during a tax year, are eligible for a senior homestead exemption on their principle residence. This amount will be subtracted from the assessed value of the home. The exempted amount can change from year to year. This exemption is in addition to the traditional Homestead Exemption given on principle residences.

Senior Property Tax Assessment Freeze

Seniors over 65, who meet total household income guidelines, are eligible to have their home's assessed value frozen. This benefit has to be applied for annually. The application must be notarized, which our staff can do at no charge to the applicant.

Tax Deferral Program

Qualified seniors may defer all or part of their personal residence's property tax. The deferment is in the form of a loan with interest that is not due until after the death of the property owner or when the home is sold. This program must be applied for prior to March 1.

Reverse Mortgage

This financial instrument allows homeowners who are at least 62 years old to use the equity from their home, creating a tax-free source of cash. Instead of making monthly payments, the homeowner receives payments. The loan is not due, as long as the homeowner occupies the home as their primary residence.
Social Security Issues
Social Security is an income benefit, usually collected by retirees, aged 62 and older who have attained at least 40 credits from the Social Security Administration while employed. Disability and survivor's benefits are available for people younger than age 62. For more information, Click here to contact a trained I & A Specialist at one of our offices near your. More information is also available by calling Social Security at 800-772-1213 or (TYY) 800-325-0778, or online at http://www.socialsecurity.gov/
Transportation
Transportation is a necessity, but frequently difficult or impossible for those over 60 or who are disabled. This often prevents access to necessary medical care and leads to social isolation and often depression. Whether transportation is needed to access medical services, appointments for hair care, shopping or entertainment, we can help identify local transportation options. Not all communities offer the same services. To learn what's available in your area, click here to contact one of our offices near you. Some programs include:
Volunteers

We recruit and train volunteers who would be happy to take you where you need to go. Click here to find an office near you to request assistance or to register as a volunteer.

Ride in Kane

Thanks to a partnership between Kane County, Pace Suburban Bus and several sponsoring municipalities throughout Kane County, this curb-to-curb transportation service takes registered riders anywhere within a 10-mile radius in Kane County. Riders must be at least 65 or disabled and live in a sponsoring community. Transportation services are available 24-hours a day, 7-days a week, 365 days a year, including weekends and holidays. Call (888) 480-8549 to see if the program is available in your community.

Seniors Ride Free/Discounted

This program allows all seniors 65 or better, to ride for free or discounted on CTA, Metra and PACE. Riders 65 or older qualify for a discounted ride. To be eligible to ride for free, you must complete and qualify for the Benefit Access Program. Contact your local Senior Services' office to apply and for information on the Benefit Access Program. Seniors can register for their RTA Senior Ride Free Ventura Card or a Senior Reduced Fare Card on their 65th birthday. To find a registration site near you, call 836-7000 using your local area code. For more information about this program, call: (800) 252-8966 or visit these websites: www.illinois.gov/transit/ and
www.rtachicago.com/fare-programs/seniors-ride-free.html
Utility Assistance
Trained I & A staff are available to assist qualified seniors in accessing programs that can help pay some of their home utility and energy costs. Click here to contact an office near you for more information on utility assistance programs including:
Low Income Home Energy Assistance Program (LIHEAP)

Depending on funding availability, this program helps with the cost of heating and/or cooling a home or apartment. Eligibility for this program is based on the combined gross income of everyone living in a household for the past 30 days.

AT&T Regular Lifeline Illinois Program

Having phone service is critically important, and everyone needs to have access. Regular Lifeline Illinois, AT&T's discounted phone service plan, makes basic phone service more affordable for qualified customers. To be eligible for this assistance, you must have been accepted in another program such as LIHEAP, Medicaid and others.

Safelink Wireless

SAFELINK WIRELESS® service is a program for Income eligible households provided by TracFone Wireless, Inc. In order to participate in the SAFELINK WIRELESS® service, persons must meet certain eligibility requirements set by each State where the service is to be provided. These requirements are based on a person's participation in a state or Federal support programs or by meeting the Income Poverty Guidelines as defined by the U.S. Government. SAFELINK WIRELESS® service is limited to one person per household.
Veterans' Issues
Senior Services Associates' staff is committed to helping veterans access the benefits they earned through service to our country. Our caring I & A Specialists can answer questions, assist in applying for various programs and/or make referrals to appropriate resources. Click here to contact one of our offices near you. The U.S. Department of Veterans Affairs provides detailed information regarding Veterans' benefits including the following top requests from the site and much more:
Click here to link to our Info Library Page for other helpful websites for Veterans.