Capital Campaign
Make a difference in the lives of McHenry County resident for generations to come.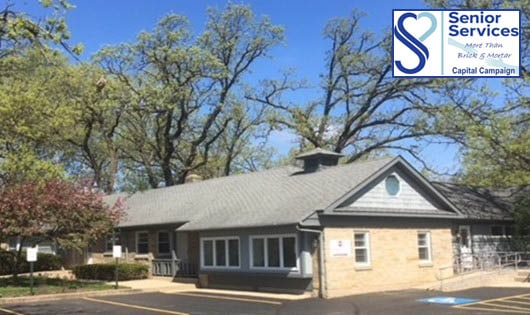 Your Gift Will Be Life Changing
We need YOU to help make a difference in the lives of others for generations to come.
Donations made to the Capital Campaign will assist seniors in McHenry County, by supporting and maintaining our new Crystal Lake Senior Center.
Any gift will have a BIG impact, and will be life changing. Members of Senior Services LOVE their home away from home, and want to remain in this location for decades to come. You can help make that happen!
Our Capital Campaign will officially kick-off on October 1, 2021. If you wish to donate NOW, we are here to take your call!
WHY GIVE?
Your gift will directly support the mortgage and needed repairs, ensuring that our Senior Center stands the test of time.
Donors receive the maximum allowed tax deduction. Please speak with your tax advisor for details.
Your gift will be expertly managed by our Board of Directors, Chief Financial Officer and Executive Director, safeguarding your donation by steering funds towards the building's needs and fulfilling the mission of our Capital Campaign.
Your dollars will improve the existing space, allowing our members to exercise, attend one-on-one benefits access meetings, access vital programs, and live more independently.
As a permanent reminder of your donation, engraved bricks will be prominently displayed on our newly designed walk path – visible by all who traverse along its route.
Dependent upon your level of support, bricks will be either complimentary or available for purchase for a small fee. View our Application Form for details. An etched paver may be in honor, or in memory of someone dear – what a perfect way to leave a lasting legacy.
There are various levels of support and corresponding benefits to meet your needs. You may prefer to be invoiced once, annually or quarterly over one, two or three years. We will work with you to find a payment plan which works best for your budget.
Our Senior Center is ready to serve you, your peers and your younger relatives for decades to come, allowing all who enter its doors to age in place. We have more details we would love to share with you one-on-one. Please do not hesitate to contact either of us with questions. The Capital Campaign Committee truly appreciates your time and consideration.
Our Dedicated Capital Campaign Committees Members
Robert Blazier, Chair
Beth Burg
Dr. Mohammad Habibulla
Joan Lyons
Bill Markison
Mary Ellen Markison*
Joe McVicker
Staff Members
Micki Miller, Executive Director
Adele Larsen
Donor Levels
There are donor levels with benefits that resonate with our community: name recognition, corporate logos, complimentary tickets to events and membership for seniors. Plus, an engraved paver (free or available at a small fee) on the Capital Campaign's Walk of Honor pathway will reflect your commitment. These are just some of the benefits offered in exchange for your generous donation. View the applications below for more details:
Corporate Supporter Application
Please mail Capital Campaign forms or payments to:
Senior Services Associates
Attn.: Office Administrator
4704 Three Oaks Road
Crystal Lake, IL 60014
Please help seniors to be healthier, safer, socialized AND more economically sound. TOGETHER – we can reach these goals.
If you have any questions, or if you wish to donate, please contact:
Micki Miller Executive Director
630.897.4035
Adele Larsen Director, Marketing & Fund Development
847.741.0404
---
*Deceased