Health Care Coverage & Senior Health Insurance program (SHIP)
HEALTH CARE COVERAGE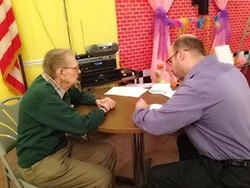 Medicare is a national, government run healthcare insurance program for seniors aged 65 and older, individuals who are under 65 with various disabilities, and for people of any age who have End-Stage Renal Disease (ESRD), or ALS (also called Lou Gehrig's disease). Our Medicare trained Information and Assistance Specialists can answer your questions or assist you in applying for, or enrolling in Medicare or Medicaid options including:
Medicare Part A:

Hospital insurance – requires deductibles and copays.

Medicare Part B:

Medical insurance for doctors, outpatient care, and some preventative services – Requires deductibles, copays and a monthly premium, which is often automatically deducted from the senior's Social Security benefits. There is a penalty for failure to enroll when eligible.

Medicare Part C:

Medicare Advantage Plans – HMO type insurance. Depending on insurance provider, benefits vary and may include some coverage for hospital, medical, dental, vision or drugs. Plans often require monthly premium, copays and deductibles. Choices for service providers are restricted to those in plan's limited network and often require referrals for services.

Medicare Part D:

Prescription drug Insurance – Requires a monthly premium, co-pays, and some plans require a deductible, all of which can vary by company. Failure to enroll can trigger a 1% penalty per month from date of eligibility. Generally, once enrolled, participants can change plans only during the annual Open Enrollment Period: October 15 – December 7. Certain situations in life allow for a special enrollment period outside of general open enrollment. Call to see if you qualify! It is advisable to annually compare various plans' drug prices, premiums and deductibles, because a senior's prescription needs may have changed and the insurance company's costs and the drugs they cover may also have changed significantly. Call our office to make an appointment with one of our qualified SHIP counselors to compare plans based on your needs or go to: www.medicare.gov to compare your current plan's costs to other available plans.

Medicare Supplemental Insurance Plans:

Also known as Gap Coverage – Private coverage that fills in the coverage 'gaps' that Medicare A and B don't cover (e.g., deductibles and co-pays.) Click here to download a comparison guide provided by the Senior Health Insurance Program (SHIP) for McHenry and Kane counties and click here for Kendall county guide, a free statewide health insurance counseling service for Medicare beneficiaries and their caregivers, or visit SHIP's website at: www.insurance.illinois.gov/Ship

Medicaid:

State medical assistance to cover health care costs for low-income individuals with very limited assets.
The above descriptions are a synopsis of complex Medicare and Medicaid programs. To speak to one our Medicare trained I & A Specialists about these issues, click here to find an office near you. Helpful Medicare information is also available at www.medicare.gov, and at the Centers for Medicare & Medicaid Services' website: www.cms.hhs.gov
SENIOR HEALTH INSURANCE PROGRAM (SHIP COUNSELORS)
At Senior Services Associates we have Information & Assistance Specialist that are certified SHIP (Senior Health Insurance Program) counselors to speak with you and/or your loved ones about your health insurance needs.
To make an appointment, contact the Senior Services Associates office nearest you. Our dedicated staff will provide information and resources about applying for Medicare, sites which offer assistance when applying for Medicare and the tools for SHIP sites around the State to utilize in serving Medicare beneficiaries.
Aurora
So. Kane County
2111 Plum St.
630.897.4035
Crystal Lake
McHenry County
4704 Three Oaks Rd.
815.356.7457
Elgin
No. Kane County
101 S. Grove Ave.
847.741.0404
McHenry
McHenry County
3519 N. Richmond Rd.
815.344.3555
Yorkville
Kendall County
908 Game Farm Rd.
630.553.5777
To read more about this program, click here.