Donate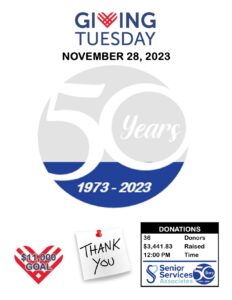 Your Donation Improves Seniors' Lives
Last year Senior Services Associates, Inc. served 33,779 seniors in Kane, Kendall and McHenry Counties in northeastern Illinois. In many instances, Senior Services was the only place they could turn for help or advice, and in many ways, Senior Services became their family. All too frequently, these seniors faced an emergency when they didn't have money for necessities like food, medicine, transportation for medical treatments, or a utility bill, but Senior Services always found a way to help them thru the crisis.
Meeting the needs of our seniors in the years ahead will be challenging. While the senior demographic is exploding in size, funding resources have remained stagnant or in some cases been drastically reduced. We are seeing a growing number of frail adults with increasingly complex issues that they and their caregiving families struggle with daily. Your donations are needed now more than ever.
Senior Services Associates, Inc. is a 501(c)(3) non-profit organization, and donations are tax-deductible to the extent allowed by law. Personal information, including mailing addresses, phone numbers, e-mail addresses and donor history is not accessible to, shared with or sold to any other organization.
Ways to Give
Listed below are several convenient ways you can contribute to our agency. Click on any of the methods and the screen will scroll down for more details. All donations are greatly appreciated.
---
Online Donations
Mail- In Donations
Your tax-deductible donation will help ensure continuous quality services for seniors for generations to come. Contributions to Senior Services can be made at any time with gifts of cash, check, or credit card. Click here for a downloadable donation form. Thank You.
Planned Giving
Designating Senior Services Associates, Inc. as a beneficiary in your will, trust, or life insurance policy not only demonstrates your commitment to quality, independent living for seniors – it can also serve as a legacy of support for generations to come. When you make a gift of $1,000 or more to the endowment fund, recognition of your gift will be memorialized in perpetuity on our beautiful Legacy Tree which has been mounted at 101 S. Grove in Elgin. In addition, a canvas picture of our Legacy Tree will be displayed at all of our offices and donors to our endowment fund will be acknowledged in every edition of The Senior Voice Newspaper. Upon looking at the picture of the Legacy Tree, you will notice that it has gold, silver and bronze leaves. Those individuals who donate from $1,000 to $2,499 will qualify for a bronze leaf, donors gifting $2,500- to $4,999 will be recognized with a silver leaf and donors gifting five thousand dollars or more will be acknowledged with a gold leaf on our Legacy Tree. Any gift to the Senior Services endowment fund of $25,000 or more will be acknowledged with a Foundation Stone which will be located under and around the Legacy Tree. If you are considering planned giving, please contact us for more information at (847) 741-0404.
Agency Wish List
Our agency and locations are in need of your generosity. Explore the wish list.
Good Shop/ Good Share
What if Senior Services Associates, Inc. earned a penny every time you searched the Internet? Or how about if a percentage of every purchase you made online went to support our cause? Well, now it can!
GoodSearch.com is a new Yahoo-powered search engine that donates half its advertising revenue, about a penny per search, to the charities its users designate. Use it just as you would any search engine, get quality search results from Yahoo, and watch the donations add up!
GoodShop.com is an online shopping mall, which donates up to 37 percent of each purchase to your favorite charity! Hundreds of great stores including Amazon, Target, Gap, Best Buy, ebay, Macy's and Barnes & Noble have teamed up with GoodShop and every time you place an order, you could be supporting Senior Services Associates, Inc.
For more information, click here to enter the Good Search site and be sure to enter Senior Services Associates, Inc. as your chosen charity. Please, spread the word! We appreciate your support.
Capital Campaign
For more information, visit our Capital Campaign page.