Caregiver Assistance
If you are a family member, a friend or neighbor of someone who depends on you to help them with their day-to-day activities, then you are a caregiver. Caregivers can be caring for someone in their home, across the street, on the other side of town or clear across the country. Not one day goes by that they aren't worrying in some way about the person who depends on them. Caregivers not only spend a great deal of time caring for a elderly loved one or grandchildren, they also must find time and energy to care for their own families and themselves.
Stress often becomes unbearable and actually causes the caregiver to become ill and unable to continue their caregiver and family roles, hold a job, or even worse, it leads to abuse.
We are here to help caregivers avoid that situation with helpful advice; linking them with programs and benefits they or the person they are caring for might be eligible for to reduce financial burdens and stress on the caregiver; and when funds are available and the senior meets certain qualifications, we can assist with some of the costs associated with providing respite for the caregiver.
As a caregiver, your first stop for help is to contact one our compassionate, trained Information and Assistance (I & A) Specialists at an office near you, which you can find by clicking here. Our Caregiver Assistance services include:
Information, Assistance and Referral Services
Our staff can direct caregivers to the necessary service agencies that help with counseling, support groups, education and training referrals. Our staff can also help the caregiver determine if the person they are caring for is receiving benefits they may be eligible for that could reduce the caregiver's costs including medications, home delivered meals, transportation and other necessities.
Community Care Program (CCP)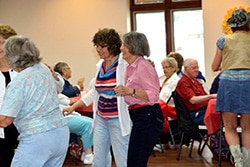 This program offers free assessment and case management services. After one of our certified Case Managers visit the senior in their home and complete a thorough assessment, the senior may qualify to receive this program's services for free. For those who do not qualify, the Case Manager can supply a list of trusted resources in the community who supply the helpful services listed below for a fee. To learn more about CCP services that will ease the burden to the senior's caregivers, click here to locate an office near you.
Adult Day Services

Adult Day Services offer older adults the opportunity to interact with other people in a supervised setting outside their home. Adult Day Service centers offer a wide range of social activities. A noon meal is provided and participants may enjoy everything from arts and crafts to card games and current events classes. Some centers also offer counseling and physical therapy with trained professionals. Additionally, Adult Day Service centers can serve the needs of family members who may need respite from caregiving responsibilities so they may work outside the home during the day. In select Adult Day Service centers funded by the Illinois Department on Aging, specialized services are offered for individuals who suffer from Alzheimer's disease or related disorders.

Homemaker Services

Homemakers may be available to dust, vacuum, clean the kitchen and bathroom, do laundry or prepare meals for older persons who are able to perform only some basic household tasks themselves. Homemakers also assist with personal care, such as grooming and bathing, for older persons who are moderately impaired. Assistance is also available for more complex tasks, such as meal planning, for older persons who have difficulty managing these activities.

Emergency Home Response Service

Caregivers are often concerned about leaving their loved one alone in the home, fearing they may fall or experience a medical emergency and be unable to reach a phone to call for help.The Emergency Home Response System provides a 24-hour emergency communication link to assistance outside the home, based on health and safety needs and mobility limitations. It provides a 2-way voice communication system consisting of a base unit and an activation device worn by the client that will automatically link the client to a professionally staffed support center. The support center assesses the situation and directs an appropriate response, whenever the client engages this system. The purpose of providing EHRS is to improve the independence and safety of clients in their own homes in accordance with the authorized plan of care and thereby help reduce the need for nursing home care.
Emergency Support
Extreme problems and unexpected situations can arise in everyone's life, such as loss of housing or illness. Crisis support is offered for these unforeseen problems, when funding is available.
Grandparents Raising Grandchildren
In Illinois, more than 200,000 children are being raised in grandparent-headed homes where the grandparent caregivers range in age from 30-90 and their average income is between $15,000-$20,000. Help is available for grandparents and other relatives who are caring for children. As an Illinois Area Agency on Aging, we are able to help you locate services including:
Financial Assistance
Guardianship
Information and Assistance
Legal services
Medical coverage for children
Support groups
Home Delivered Meals
Arrangements can be made for nutritious meals to be delivered to a senior at home. Delivery of the meal also provides a 'well being' check of the older person each day. When you call an office near you, let the I & A specialist know if the senior has diabetes so an appropriate meal can be provided. The average actual cost of delivering the meal is about $8.00. A suggested donation of about $3.50 is requested, but no one is turned away due to an inability to contribute. We can send you a sample menu to help you decide if you want to participate in this program. Click here to find an office near you.
Respite Funding
When caregivers need to take a short break from their responsibilities, in-home care, adult daycare and overnight services are available for their loved one, when funds are available.