Volunteer Opportunities
Senior Services Associates, our clients, their families and our communities all benefit from the generosity of our volunteers. Our agency has a variety of programs that offer meaningful volunteer opportunities to individuals of all ages, in Kane, Kendall and McHenry Counties. If you have time available to help, there are always more needs than available volunteers. Our programs include:

Volunteer Application for McHenry/N. Kane
Retired and Senior Volunteer Program (RSVP)
RSVP volunteers aged 55 or better, serve in a diverse range of nonprofit organizations, public agencies, and faith-based groups. Volunteers in this national program perform a variety of valuable services such as mentoring at-risk youth, organizing neighborhood watch programs, testing of drinking water for contaminants, teaching English to immigrants, and lending business skills to community groups to provide critical social services. If you would like to volunteer or need help from a volunteer, visit our RSVP page.
For more information about RSVP program please visit nationalservice.gov and www.illinoisrsvp.org.
Long-Term Care Volunteer Ombudsman Program
Volunteers in this Illinois Department on Aging program, advocate for the rights of residents who live in long-term care facilities. Ombudsmen are trained to protect and improve the quality of care and quality of life for nursing home residents. If you're interested in this important program, click here to learn more details, or call the program's director, Stephanie Owen, at (630) 897-4035.
Senior Companion Program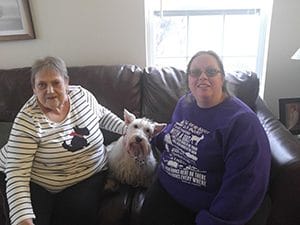 Seniors in need of companionship are paired with trained, screened volunteers who are 18 years and older and are available to spend time with their matched senior either weekly or bi-weekly. This program is currently available in Kane, Kendall and McHenry Counties. If you would like to learn more about this program, click here.
If you would enjoy a companion, would like to volunteer, or want to refer someone who you think might benefit from a weekly visit, please contact one of the following Senior Companion Coordinators:
McHenry County
Maureen Almazan
McHenry: (815) 344-3555
Northern Kane: (847) 741-0404
Email
Southern Kane County
Amy Cummings
Southern Kane: (630) 897-4035
Email
Kendall County
Amy Cummings
Phone: (630) 553-5777
Email
Senior Application for McHenry/N. Kane

Senior Home Repair Assistance Program
This program assists McHenry County property homeowners aged 60 and older, who need a small home repair completed in their home. Senior Services maintains a pool of volunteers and service organizations that are able to help with small handyman tasks and yard maintenance.
We can also provide a list to connect seniors with our preferred, professional service providers and individuals for private pay who have consented to a background and reference screening process. This list is a reliable substitute to choosing an unknown service provider from the phone book. Preferred providers are available to perform general home repairs and odd jobs, plumbing, window washing, waste removal, lawn maintenance, etc. Based on availability, financial assistance may be an option for seniors who qualify.
As requests from seniors in need of home repair increases, so does the need for volunteers and friendly business providers. The Senior Home Repair Assistance Program is always seeking volunteers and friendly business providers to join our team. If you need help or would like to volunteer, please contact us at our McHenry office, (815) 344-3555.
Our Volunteer Transportation Program
We are here to help seniors, aged 60 or better, to access transportation services. This program's volunteers provide free transportation for seniors who live in Kane, Kendall or McHenry County. Many of our clients depend on our generous and caring volunteers to take them to their doctor, the hospital for chemo treatments or dialysis, a pharmacy or grocery store, nutrition sites, activities at senior centers, and much more. If you would like volunteer or if you need to request help from a volunteer, please contact one of the Volunteer Coordinators below. If you live in:
Elgin and Northern Kane County
Peggy Gomez
Phone: (847) 741-0404 or email pgomez@seniorservicesassoc.org
Aurora and Kendall County
Richard Walker
Phone: (630) 897-4035 or email rwalker@seniorservicesassoc.org
McHenry County
Christy Strissel
Phone: (815) 344-3555 or e-mail cstrissel@seniorservicesassoc.org
TRIAD
TRIAD is a partnership with Elgin Township, Kane County Sheriff's Department, Elgin & South Elgin Police Departments, and Senior Services Associates. This program links seniors, law enforcement and the community through involvement and volunteerism.
This program gives older residents some influence over law enforcement services and raises the awareness of law enforcement officers and the community in general regarding senior citizens' concerns. Participants in this program are involved in raising awareness in the community of the valuable contributions made by seniors. They develop and implement projects promoting the well-being of seniors in our community. Programs they have been involved in include informational seminars about Frauds & Scams, Financial or Physical Abuse, Senior Patrols and much more.
For more information or to volunteer, call Peggy Gomez (847) 741-0404 or contact her via e-mail pgomez@seniorservicesassoc.org