Recreation, Education & Health
Senior Services Associates offers many recreation, education and health related activities not only at our offices but also at convenient facilities in the communities we serve. Click on any of our office locations below to learn what's happening near you!
Recreation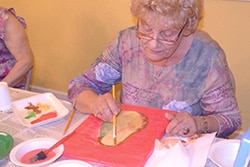 Senior Services Associates offers a variety of opportunities to socialize. This includes activities such as bingo, card games, holiday parties, crafts, and bus trips to ball games, theatre events and other special outings.
Education
We reach out to professionals on various topics who give presentations on a variety of topics of interest to older adults, such as Healthy Heart Aging, Medicare Part D, Long Term Care Insurance, Defensive Driving, Fraud and Scam Awareness and much more.
Health
We frequently host events focused on maintaining the health of older adults. Our programs and activities include exercise programs, Fall Awareness presentations, flu shots, medication management and a wide range of screenings including those for blood pressure, hearing and sight, mental health and counseling. In our monthly news publications we also feature current health related information. Click here to read some of our fun and informative publications.